Volunteer at Flourish
The heartbeat of Flourish is our volunteer crew, coming in at nearly 120 volunteers per month. Our volunteer opportunities include sewing, woodworking, sorting, and more.
Come join the fun!
First Time Volunteer?
Click "Sign Up To Serve" button below
Click on "Volunteer Registration"
Fill out your contact information. If under 18, a waiver will be emailed to your guardian and they will need to confirm before you can serve.
Arrive at 8:30 am to check in for the day, take a tour, and choose your assignment. Plan to stay until around 12 pm
If you have any questions, please email Volunteer@FlourishFurnitureBank.org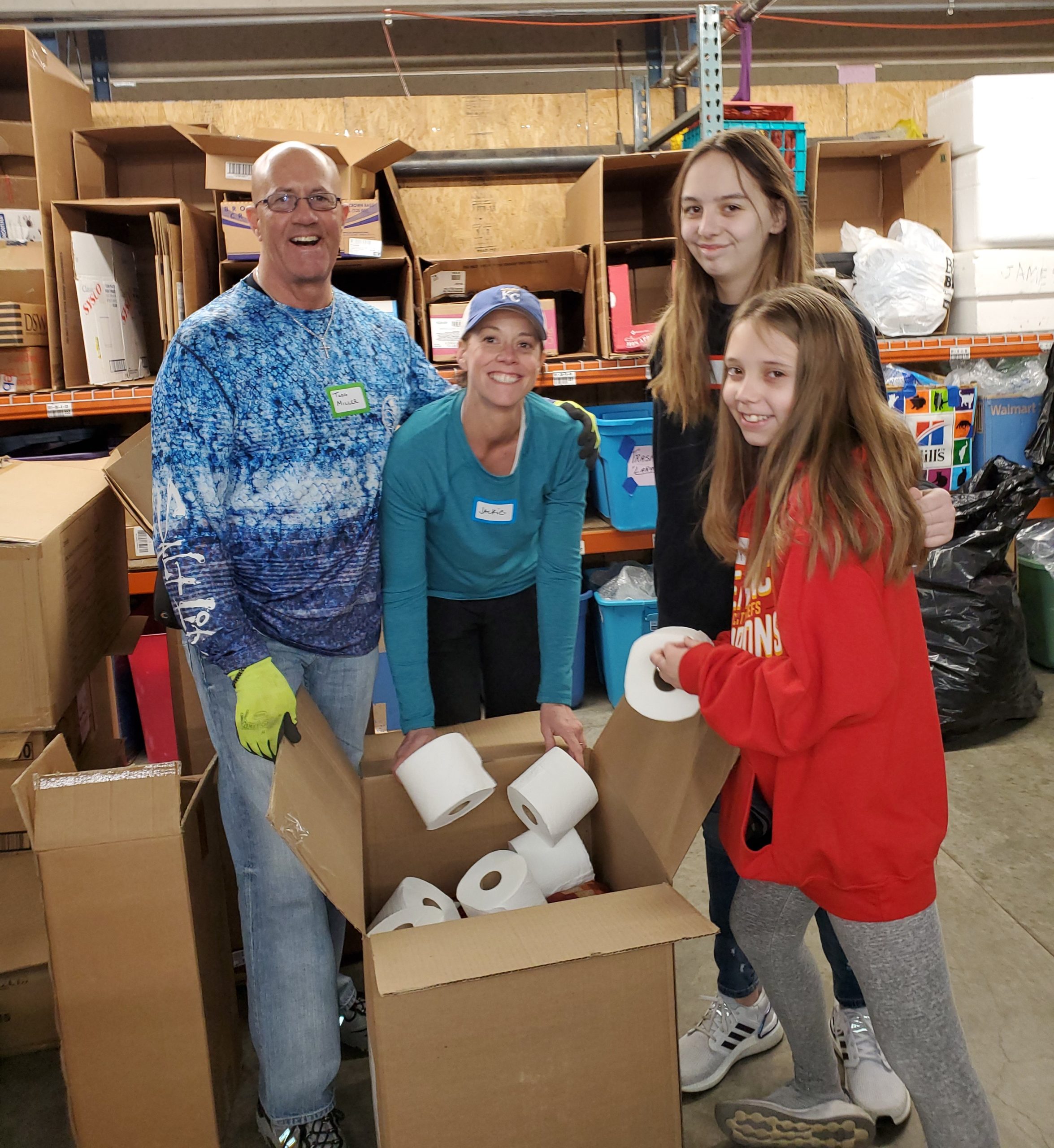 On-site Teams
Team Size: 5–10 (volunteers ages 12–14 must be accompanied by an adult, with a ratio of 1:5)
Jobs include loading trucks for our guests, sorting through donated goods, packing, woodworking, sewing, and more!
Specific projects will be determined on the day you volunteer based on inventory and final group size. Special team building projects are available both on and offsite.
Volunteers do not have to stay for the entire time frame, but are requested to be present by 8:30 am. There will be an orientation and tour for any new volunteers. 
Off-site Ideas for Teams
Sponsor a donation drive: collect items such as cookware, small appliances, blankets, towels, pillows, etc.

Purchase and assemble kitchen essentials kits as a team.
Build a dresser from a kit and deliver to Flourish.
Host a Flourish scavenger hunt! Divide into teams and see who can collect all the items on our list of essentials first!
Select from a variety of flexible and rewarding opportunities. New volunteers should attend a 30-minute introduction tour prior to their first day of service to learn more about the opportunities. Volunteers ages 12-14 must be accompanied by an adult.
Facilities Assistant
Move donated furniture, bags and boxes throughout the facility. Restock shelves.
Load and unload vehicles.
Accept donations.
Times
Tuesday – Saturday from 8:30 am – 12 pm. Other time frames available upon request. 
Shopping Assistant
Assist clients during their shopping trip
Tag furniture and pack small housewares
Limited lifting required
Times
Tuesday – Saturday from 8:30 am – 12 pm.
Donation Intake Specialist
Inspect and clean incoming furniture pieces
Times
Flexible schedule while facility is open Tuesday – Saturday from 8:30 am – 12 pm.
Truck Drivers
Our  team is looking for a few folks with flexible weekday schedules to help us get donations picked up. Help us ensure that no one in Kansas City goes without basic necessities. Most shifts are only 1-4 hours and offer flexibility.

Please contact info@flourishfurnishings.org to learn more. No CDL required.
Product Sorter and Packing
Sort, size and clean small housewares donated by home and corporate donors
Inspect items and stock shelves with dishes, cookware, linens, utensils, etc.
Pack and prepare clients selection for transportation
Times
Tuesday – Saturday from 8:30 am – 12 pm. 
Electrical & Woodworking Shops
Perform minor repair and test small electrical appliances and lamps.
Perform minor repair, restoration, and construction/upcycling of donated furniture.
Times
Tuesday – Saturday from 8:30 am – 12 pm.
Sewing Room
Light sewing
Repurpose linens
Training provided
Times
Tuesday – Saturday from 8:30 am – 12 pm.