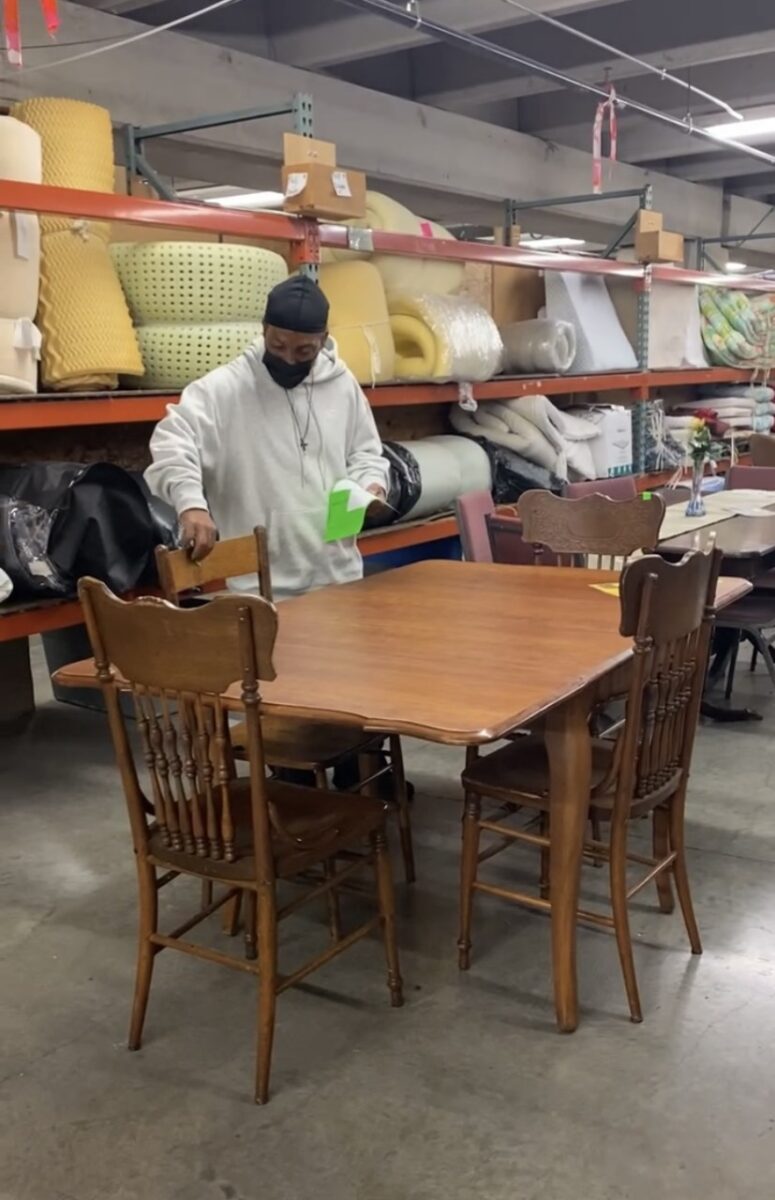 "Those who come to us find guidance and compassion, not judgement."
– Journey to New Life
Kevin Strickland was only 18 years old when he was falsely accused of murder. Shortly after, he was convicted and began serving a life sentence for a crime he did not commit. After 42 years of life in prison, from 1979 to 2023, Kevin was exonerated, making his case the longest confirmed wrongful conviction case in Missouri.
Lamar Johnson faced a similar nightmare in 1995. It wasn't until February of 2023, 27 years later, that a judge exonerated Lamar, after declaring constitutional error, stating "there is clear and convincing evidence of Lamar Johnson's actual innocence."
Ricky Kidd was 21 when he, too, was wrongfully convicted and sentenced to life, spending over two decades, from 1997 to 2019, incarcerated.
After his exoneration, Ricky visited Flourish Furniture Bank to pick out all the furnishings and essentials needed to start building a home. Ricky has since then founded "I AM RESILIENCE" and honored Flourish by speaking as a guest at an event in 2022.
Ricky has also helped Kevin and Lamar, clients of Journey to New Life and the Midwest Innocence Project, celebrate their freedom and reclaim their lives.
Journey to New life was founded in September of 2013. From their website, "Journey to New Life is a collaborative, non-profit organization that facilitates the empowerment of people reentering society from prison or other involvement with the criminal legal system by accepting them as they are, and providing emergency assistance, housing, reentry case management and employment assistance in a safe and supportive environment."
Flourish Furniture Bank and Journey to New Life are two organizations that understand the deep importance of home and belonging. Through this partnership, Flourish has been able to help Ricky, Kevin, and Lamar on their road to stability as they face a future that may have seemed impossible just a short time ago. Through the collaboration of help through Ricky Kidd and Midwest Innocent Project, these men, and so many others, are being offered a hand up during a difficult transition.
Journey to New Life assists their clients with services that promote successful community reintegration, including rapid rehousing and case management that provides full wrap around services. It is this support that enables Flourish to step in and offer a no cost solution for their clients to turn those houses into homes. By providing essentials like beds, dressers, tables, and even linens, kitchen wares and décor, guests like Kevin and Lamar can enjoy life after incarceration without the financial burden of setting up a home.
"When a client finds a stable apartment or a house to move into and they do not have anything for their new home we provide them with what we can. The greatest resource that we can give them is the Flourish Furniture Bank. Having a new home to move into after being in prison for years feels great but it can bring some worry with it. Clients may not have a bed, couch, or any furniture for their new home, and it can be a bittersweet process for them. By referring them to Flourish and going with them to get furniture and other housing needs we are taking those worries away and making the process a beautiful thing. It also shows clients that they are supported not just by Journey but by other great organizations as well. They feel supported by the community, and it gives them hope for the future. If we can offer hope after all that they have experienced in prison, then we are on the right track!"
Emily Dodgson, Journey to New Life
Housing is now being considered a fundamental, if not often overlooked, facet of health care. Even temporary and short-term instances of being unsheltered or living through a housing trauma can substantially increase mortality rates. Both physical and mental health can suffer without a stable, quality, and safe environment in which to live. Flourish is grateful for partners like Journey to New Life, and the opportunity to be a part of the housing solution in Kansas City.
To learn more about Journey to New Life and to congratulate them on 10 YEARS of transforming lives in Kansas City, please visit their website at www.JourneytoNewLife.org.